What is Remote CART?
The Internet has created unique opportunities for Archer Captioning to provide word-for-word speech-to-text translation and improve access services. Remote captioning is one such service that allows deaf and hard of hearing people to follow what is being said without the Captioner being physically present in the same room. (See an overview at the right.)
Elizabeth and her staff provide real-time and remote CART services for the following activities:
middle and high school students
college students at the under-graduate and graduate levels
corporate meetings
board meetings
conventions
conferences
seminars
religious services
medical situations
legal settings
Are you ready to start? Archer Captioning is.

If you have an assigned password,
login to Archer Remote.
No password? Contact us and request one NOW for your use.
Remote CART Overview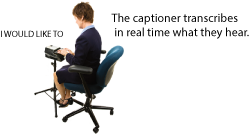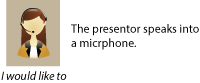 Remote CART works by the Captioner listening to what is being said using either a telephone or internet system such as Skype. The text can be viewed by one person, or projected for an entire audience. CART can be displayed on a laptop, large screen, smart phone or tablet enabling deaf and hard of hearing people to participate in events such as the classroom, workplace and other events.
To use remote CART, there is no need to download software or purchase equipment. All you need is a device with an internet connection. You will log onto a secure website and have the ability to adjust the size and color of the font and background color, which is an added advantage for the visually impaired.